This skin type is made up of two or more different skin types and the condition of your skin can change between seasons. 
Typically, the combination skin type is characterized by dry skin on the cheeks, with visible oiliness and shine in the T-zone (forehead, nose, chin). 
It is one of the most common skin types and is characterized by white and black spots in the oily area, for example on the nose, and by dryness on the cheeks. Many times it can appear pimples in the oily area. 
Those of you with a combination skin type should build a beauty routine that will regulate oiliness in the T-zone without causing dehydration on the cheeks. It is often recommended to use different products for the T-zone than the cheeks. 
Ingredients we recommend to include in your routine if you have a combination skin type. 
Hyaluronic acid
Peptides
Vitamin C
Salicylic acid 
Lactic acid for exfoliation
Bakuchiol or retinol
Morning beauty routine
Cleaning with either gel or plain water.
Toner
Serum
Eye cream 
Facial moisturizer in gel form
Sunscreen
Evening beauty routine
Cleansing with balm or oil
Cleaning with gel or foam
Exfoliation (2 times a week)
Toner
Beauty mask (as often as we can)
Serum
Eye cream
Facial moisturizer
Cleaning products for combination skin
Exfoliating products for combination skin
Toners for combination skin
Essences & serums for combination skin
Moisturizing creams for combination skin
Sunscreens for combination skin
Beauty masks for combination skin
The above products are indicative. In order to build a proper beauty routine, we must take into account other than skin type and what concerns us, eg pimples, black spots, sensitivities, fine lines and wrinkles, blemishes. 
Contact us to help you build your own personal beauty routine. 
You've certainly heard of them, what you may not know is that they contribute to skin health with multiple benefits. Probiotics are live bacteria and
Read More »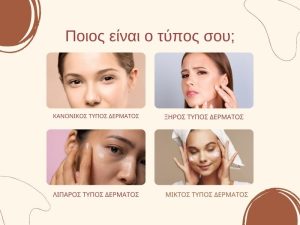 We read so much about skin types, ingredients we apply and how effective they can be for some while others don't.
Read More »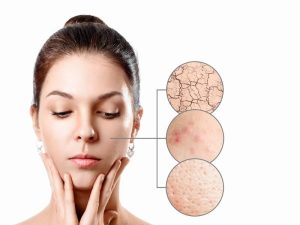 Dry skin is characterized by a lack of moisture, causing it to feel tight, tight, perhaps cracked and flaky. This
Read More »