Oily skin is characterized by increased sebum production, enlarged and blocked pores and sometimes acne proneness.
If you have oily skin, you'll need to develop a regular skin care routine that helps remove excess oil without drying it out.
But don't forget that you are also extremely lucky. Oily skins don't wrinkle as easily as drier skin types.
Ingredients we recommend to include in your routine if you have oily skin:
Tea tree
Green tea
BHA, salicylic acid
Niacinamide
Retinol
Propolis
What are the causes of oily skin:
1. Skincare routine that we already apply: Many times if we wash or exfoliate our skin too often it can lead to opposite results. This happens because with excessive cleaning or very frequent exfoliation, we remove the skin's natural oils, causing the body to produce extra sebum to protect the skin.
2. Genes: Genes play an important role in the type of skin we have. Maybe our parents had oily skin when they were our age. Should we ask them?
3. Age: Skin tends to be oilier at a young age. As we age, the skin loses collagen and other proteins, which can cause the pores to stop producing oil, resulting in a change in skin type. That's why it's good to observe our skin and diversify our beauty routine.
4. Climate: External factors such as humidity and temperature can affect the amount of oil our skin produces. For example, people who live in hot and humid climates have oilier skins as opposed to people who live in cool and dry climates. Notice how your skin changes from summer to winter.
Morning beauty routine:
Cleansing gel
Toning lotion 
Essence / Serum
Eye cream
Moisturizing cream in gel form 
Sun protection
Evening beauty routine:
Balm / Cleansing oil
Cleansing gel
Toning lotion
Serum with retinol
Eye cream
Moisturizing cream 
Cleaning products for oily skin
Tonic lotions for oily skin
Essences & serums for oily skin
Moisturizing creams for oily skin
Beauty masks for oily skin
The above products are indicative. In order to build a proper beauty routine, we must take into account other than skin type and what concerns us, eg pimples, black spots, sensitivities, fine lines and wrinkles, blemishes.  
Contact us to help you build your own personal beauty routine. 
You've certainly heard of them, what you may not know is that they contribute to skin health with multiple benefits. Probiotics are live bacteria and
Read More »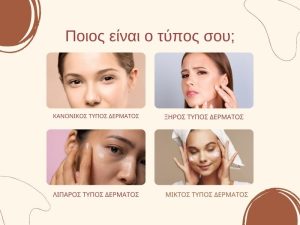 We read so much about skin types, ingredients we apply and how effective they can be for some while others don't.
Read More »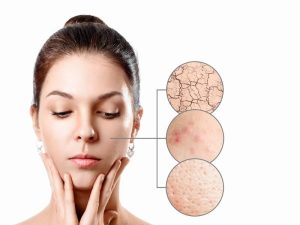 Dry skin is characterized by a lack of moisture, causing it to feel tight, tight, perhaps cracked and flaky. This
Read More »